Post by Deleted on Nov 29, 2015 9:23:00 GMT -5
Full Name:
- Heather Côté
Aliases:
-
-
Avatar Photo:
-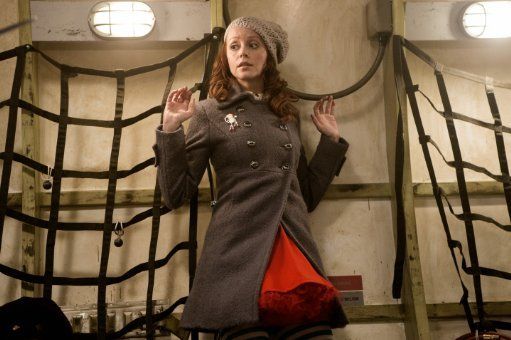 Companion
Age:
- 37
Gender:
- Female
Appearance:
- Height 5.2
- Thin build
- Red head
- Healed wound mark around knee
Occupation (studies and job before the outbreak):
- Fencing instructor
Hometown (city, state, country):
- Québec,(born)
- New York
Relationships (relatives, friends,...):
- Leon Côté (Dead)
- Carrie O'Brien (Dead)
- Kull the dog (always with her)
Weapons (currently in possession):
- Backsword
- Dagger
- Handgun
Items (clothing, backpacks, first-aid kits, etc...):
- Swords / knifes wrapped in a blanket
- First aid kit
- Metal lighter
- Chew toy
Mode of transportation:
- Black NYPD Bearcat Swat Vehicle
List 3 or more good personality traits:
- Calm
- Rational
- Caring
List 3 or more bad personality traits:
- Lack of leadership skills
- Can be Pessimistic
- Not a good shot with a gun
List 3 strengths:
- Sword skills
- First aid skills
- Trustworthy
List 3 flaws:
- Weak in strength
- Knee trouble at times do to accident when young
- Curious
Describe your character's life before the Apocalypse:
- Heather was born to a Canadian father and Irish mother. Her child hood was pretty average and happy despite her following in her father footsteps of been a sword fencer. Medals and trophies decorated her bedroom wall but a car accident in her late teens would set her back years and stop her from an Olympic position. With the passing of her father Heather moved to New York to take up a fencing instructor position were she remained for the next eleven years.
What happened to your character on Outbreak Day??:
- Heather had paid little attention to the news on the week of the outbreak with the passing of her mother. When she finally reached New York after returning from Québec she arrived at the peak of the outbreak. The military placed her in a safe zone at a near by basketball arena. She stayed for a day before things began to go south, unarmed she made her way back to her apartment and remained.
Describe your character's life after the Apocalypse:
- Heather at first kept to the apartment block living off supplies in the other apartments, only when a fire begun in one of the lower apartments do to a group did Heather decide to leave and venture out. Heather stuck to what she knew and kept her sword near to her. The fencing sword was useless against the dead but good against the living and good enough to scare them off. She made her way over to her fencing school to get her hands on a number of swords she held safe for display. On her journey she came across a dog trapped in a air vent by three zombies, with the zombies back turned she took them out with a gun she took of a dead K-9 officer and with the dog safe she feed him. The gun fire had attracted more than just zombies but an unwanted group and Heather found herself cornered with no ammo in the gun. While defending herself from one of the man her blade broke, but Heather would be helped by the very dog she had just saved and the two managed to drive them off. Kull had been a former K-9 dog, since outbreak had been trained by trainer to avoid zombies and with his death has since stayed by her side, the two have since used each others talents to stay alive and with Kull helping them avoid dangers. On joining Heather followed Kull to a Swat vehicle Kulls former owner had used.