Post by Julie Archer on Mar 25, 2018 11:21:44 GMT -5
It had been days since the mess at the prison. Julie stared ahead at the road. She said nothing as she let out a tiny sigh and brushed the bangs from her eyes. The road stretched out forever. Ahead of her was nothing but blank slate and potential for more broken heart. Julie was always the optimist, but lately, she felt her spirit wavering. Everything had gone from bad to worse. Her fingers tightened against the wheel as she hit a slight bump. Julie's head turned to the passenger seat where she saw William sleeping.
Her eyes remained on him for awhile. She watched the slow rise and fall of his chest as she carefully noted that he was indeed still alive. She had to keep an eye on that. It would be awful for him to turn without her noticing and sink his teeth into the side of her face. She was doing all she could just to keep her eyes open on the road. The bumps did a little to help in that regard. Julie ran over another dip in the road and the seat bounced slightly causing her to utter a tiny startled cry. She was driving William's pickup. She fished the keys out of his pocket and drug him into the passenger's seat. She had a little help from Eddie, the one everyone called Brick. Eddie helped her get William into the truck and then he darted off before she could stop him. The whole scene had been chaos.
Julie closed her eyes a moment and she could see the flames. She could hear the screams echoing off inside her head. The gunfire, the panic. It all came crashing back to her like a tidal wave of terrible. Her bright blue eyes opened. Confident and assured, despite feeling anything but those things. She stole another glance at William. There was a thin line of blood that had dried at the corner of his head. He had been in and out almost this whole trip. He would wake up every so often and mumble something and pass right back out. When they had gotten a safe distance away from the prison Julie had checked him over.
She pulled the truck over and checked him for just about everything you could be checked for. Bites first and foremost. She checked him for gunshots or broken bones. The index finger of his left hand was actually broken. Julie had duct taped a make shift splint together out of a couple of mechanical pencils. Other than the broken finger he was fine. He had a nasty bump to the head, but she couldn't tell how bad until he was actually awake and lucid.
Then there was the bodies in the truck bed. Julie had paused long enough to glance at the young faces. She didn't really know them every well. Not really, the first thing William did when he finally did start moving around was demand that they pull over to bury them. Julie pulled the truck over on the side of the road by a field on the highway. There was nothing out there on that stretch for miles. It was one of those lonely highways that exist in America only to remind you how vast and empty the world really is. Julie had stood quietly while William did all the work. The wind blew her hair around and she reached up and tucked strands of blond behind her ear.
There she stood in the silence. Wearing her short shorts and pink tank top. The leather of the Fool's jacket almost a lie against her frame. She didn't feel like she earned this jacket. She wasn't the family that this guy lost. To him she was just some prospect. Some nobody who didn't have his respect. At least that's the way she thought he felt. Julie didn't offer up much at the funerals. She placed a flower on each of the plots and said nothing. The sadness in her eyes and heart were plain to see; even if she didn't offer up even a simple I'm sorry. Julie placed a hand on William's shoulder but she could see the pain there. She allowed her hand to slip away for fear that he might jerk his shoulder away from her in anger.
That was two days ago. Now she glanced back over at him. He was sleeping in the passenger's seat hugging a bottle of scotch. Or maybe it was whisky. Julie couldn't tell. She was never much of a drinker. The last time she had a drink she was sharing a drink with Camilla on the porch of a presumably safe neighborhood porch. She thought about Camilla for a moment. The soft lines in her cheeks sagged into a frown as she thought about her back at the prison... Probably dead. It was funny. She could remember somethings so clearly it was almost as if it was happening in real time right in front of her. Other things she couldn't piece together. She didn't even know if Camila was alive, or if Brick had made it. What happened with Johnny and Lulu? Did anyone help them get out? There were so many unanswered questions. Julie just sighed.
She saw the sign ahead and that brought the briefest of smiles to her face. Julie even uttered a small laugh. She instantly felt guilty about it. She turned to note that William had not woke yet. She was relieved. She felt bad about smiling when he had lost so much. They both had. For the first time in a long time she felt as if she had family. A place where she was accepted, but it didn't last. The world didn't allow things like that to last anymore. Julie stared at the sign until they drove past it.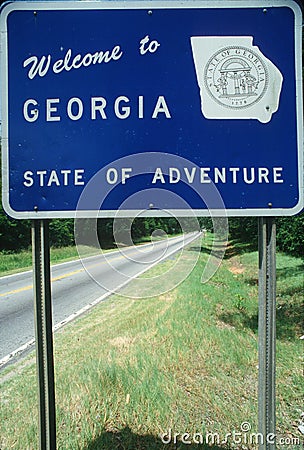 Julie pulled the car up slowly after entering into Georgia. There was a bunch of cars stalled out in a traffic jam. It'd take about an hour or so to clear all this out. Julie pulled the lever up into park and got out of the truck. She closed the door gently after grabbing a shotgun off the front seat. Across her back hung her cattle prod. It hung over her shoulders and across her chest the way a samuria might keep his sword on his back. She had fashioned a strap for it long ago. Julie walked with her tennis shoes untied across the Georgia asphalt. She had the shotgun pointed down at the ground as she walked up to the first car.
Opening the door she checked inside the dark car with the tinted windows. She swiveled the shotgun barrel at every seat just to be sure. She wasn't a hardened badass she was just Julie. She could shoot with the best of them and she had been through hell, but it was her kindess that got her this far. Not her brutality; to which there was very little within her. Julie sighed a sigh of relief and popped the car into nuetral. She began pushing the car out of the way just hoping for no surprises. She was anxious to see home.