Post by Deleted on Aug 5, 2017 1:02:17 GMT -5
Full Name:
- Anthony Washington
Aliases:
- Tony
Avatar Photo:
Austin Amelio
-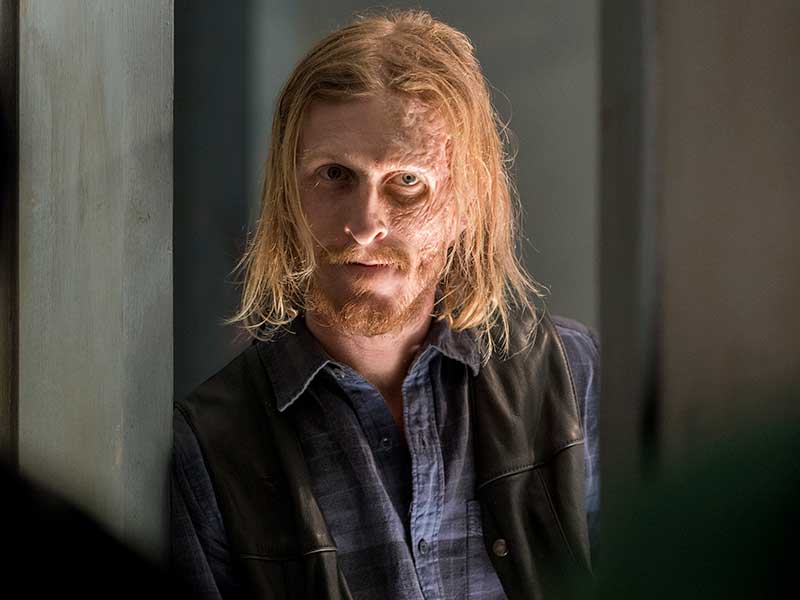 Age:
- 31
Gender:
- Male
Appearance:
- Long blonde hair and blue eyes. Face scarred and burned on one side. Quite skinny and thing. Though remains wirey and muscular. Beard come stay in patchy, with it unable to grow through the burns.
Occupation (studies and job before the outbreak):
- Was a business owner and part time fry cook at a theme park.
Hometown (city, state, country):
-North Carolina
Relationships (relatives, friends,...):
- Kennedy's men
- Kennedy himself
- Various groups and people around NC
Weapons (currently in possession):
- Shotgun
- Handgun
- Firemans knife
Items (clothing, backpacks, first-aid kits, etc...):
- change of clothes
- satchel bat
- bandana
- goggles
- boots
Mode of transportation:
- usually on a bike or on foot
List 3 or more good personality traits:
- dedicated
- determined
- self sufficient.
List 3 or more bad personality traits:
- closed off
- back stabber
- quiet
List 3 strengths:
- good shot
- good cook
- does as he's told
List 3 flaws:
- not the strongest
- scars along his left side of his face (doesn't look pretty anymore)
- can't swim
Describe your character's life before the Apocalypse:
- Tony worked most of his life. He wasn't ever great in school but he managed to graduate. He got a job at a local theme park out of Highschool. It wasn't much but it paid enough for him to pay what little bills he had. He lived in a one bedroom apartment and was quiet most days. He went to work, went home live and repeat.
Eventually his coworker got him to invest in a gadget. It was a new startup he had and Tony went in. The protype ended up going big. He stayed a remainer of the gadget, coming on as a shareholder. He had money now and quit his job at the amusement park. He got a new apartment and actually had a decent life. Made money, had a decent car. For once in his life he felt good about himself.
He met a girl named Emily and fell in love with her. She was a teacher and they moved in together. They were happy, he was happy. Tony thought nothi could go wrong and for once in his life it wouldn't come back to bite him in the ass. He was a large shareholder for the gadget and it continued to sell like a wilfdfire.
Eventually his friend screwed him over and bankrupted the company behind their back. This made his shares worth nothing, pennies. The gadget stopped being made and was pulled off the shelves. Tony got mad at his friend and attacked him. He wa charged with assault and forced to go to prison for a few months. In their he brewed and grew even angrier over the man.
Then he was released from prison. He found his friend had slept with his girlfriend while he was away, getting her pregnant. He got angry again and this time smashed their house and left. He had nothing once again, at rock bottom. He tried to apply around and eventually had to sell his car, his house and everything he had.
He worked again at the amusement park, working as a fry cook in a little tent. He was back to where he had all started miserable and hurting. He was an angry man and took it out on his customer one day who had came to complain. The customer got angry back and taking the deep fryer threw it at his face. This left him scarred and sent him to the hospital.
What happened to your character on Outbreak Day?:
-
Describe your character's life after the Apocalypse:
-